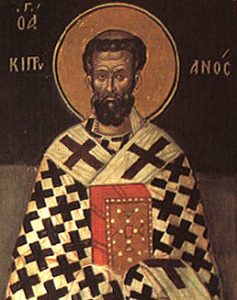 CYPRIAN DISCIPLESHIP CENTRE is our new office and classroom block located along Jambo Drive. It is housed in the former Link Park building.
CYPRIAN DISCIPLESHIP CENTRE is named for the early African Christian leader Cyprian of Carthage (AD 200-258). He led the church in the ancient North African city of Carthage (in modern-day Tunisia), serving as its bishop from AD 249 until his death by martyrdom in AD 258.
Although his formal ministry was brief, Cyprian left a lasting legacy of perseverance and theological clarity that continued to shape the early church for many generations. His writings and letters reflect a clear passion for the church, addressing such topics as church unity and the need for believers to be rightly related to Christ's church. The church desperately needed his leadership during this time, since they faced organized Roman persecution from without, and conflict and division from within, arising from disagreements over whether fallen believers could be readmitted to the church. He was even instrumental in formulating the idea of church councils, which would be used to solve many church conflicts over the following generations.
VALUE: COMMITMENT TO THE CHURCH
The Cyprian Discipleship Centre has been so named in the hopes that students, graduates, and friends of CABU may share in our ancient African father Cyprian's passion for the unity, purity, and testimony of Christ's church, and may spend their lives for it, if necessary even following Cyprian's example of faithfulness unto death.