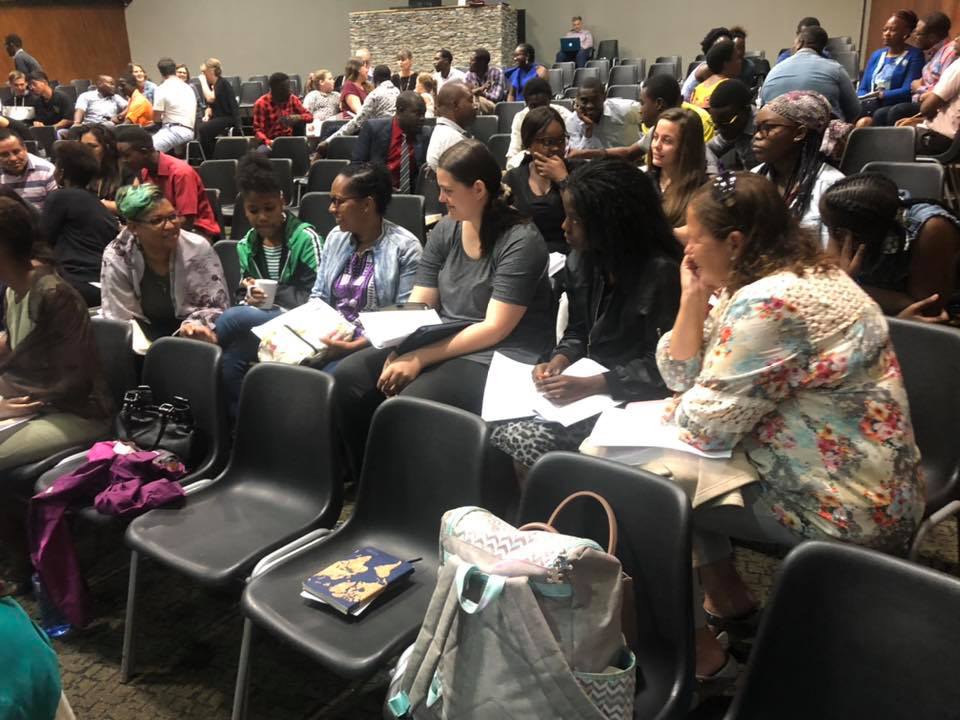 Before I dive in, to share what I have found to be one of the greatest joys. Allow me share a story.
I was in class one morning and one of the members at our church called and asked if I could help her unlock the Sunday school classroom door (I keep a set of keys), I agreed. She came through and picked me up. Long story short we started talking. I call her Aunt Belinda, very sweet lady, always smiling and just an all-round nice person. I asked her what she thinks about homeschooling. Her being a teacher; she gave me both the positive and the negative. She explained everything like a mother would to a son. Not only that, she also gave me words of encouragement "whatever you do not be afraid, you'll do a great job". She gave me a testimony of how it was difficult for her as well and said "trust God, it's easier said, but when it comes to trusting him, man is it hard!". It was a great moment of discipleship that the lord prepared. Her forgetting her keys home, and me carrying mine just in case, was all God's design. I really needed the advice she gave me that morning.
The body of Christ
If we were to take a survey among young Christian couples, both with children and without, and ask them how they plan to raise their kids or what the end goal of their marriage is. Quite a number of the answers will be vague. Of course, some may sound godly, but deep seated, are all these selfish desires for our children and spouses. The times we are in have made us into people who are too informed for our own good, that we have resorted to neglecting the basic need for every believer; submitting to a local church and serving one another. That biblical aspect of older men teaching the younger men and older women pouring into the younger women. Oh, how easy but yet difficult it is. Young Christian couples do life in secret but claim church membership. The current trend or temptation is to get parenting advice from YouTube channels and blogs. These things are not bad in and of themselves, but they are supplementary. Our parents (bible believing) and the church was and is God's plan for such activity. This goes to single men and women too. We look to the world, when the body of Christ is rich with generations that have seen the times change, they have seen cultures stray from practices that carried good intentions, to being corrupt. Those, brothers, sisters, those older members, are our guide to life. They know the patterns. God designed his body in that special way (different age groups, cultural backgrounds and different Ethnicities). You will be a failure in your spiritual walk if you try to walk alone.
The Charge
What do we do with this? The temptation would be to go through the motions, but I charge you to genuinely submit and serve within the context of your local church. Take this picture of a beautiful Sunday morning. You walk through the church doors; an older lady sees you and your wife (maybe your child as well). She smiles and gathers strength to get up and come to you. You meet half way and she embraces you both with warm hugs and takes your baby from you. She Kiss the baby. But wait she notices there is something wrong with the young one, and she asks "have you guys been sufficiently breast feeding this little guy? " She then proceeds to share her experience gained from years of parenting. Brethren that is the beauty and joy of the body of Christ. The world calls it old fashion. But I urge you to embrace it and guard it jealously. To the older believer, do not end your advice at "your generation is spoilt and corrupt". I would ask that you lead us with a spirit of gentleness. The apostle Paul says this in Ephesians 6:4 "Fathers, do not provoke your children to anger by the way you treat them. Rather, bring them up with the discipline and instruction that comes from the Lord." Older men be intentional. Show younger men what it means to be a man (biblical manhood) and a loving Husband/father, take us under your wings and impact us. Older women, teach the younger women modesty and what biblical womanhood looks like, invite them in your homes, show them how you do your devotions, how you handle chores, take them along with you, when going grocery shopping. Model that for them, so they or rather so that we know that a Christian family is not fan and games but submission and commitment.
Benediction
Lastly to all the churches that practice life on life discipleship, continue loving one another, do not lose heart, be patient with the younger generations in your churches. Mold them to carry on the right practice of advocating for church membership and honoring God and his church. In doing so you are not only protecting them, but you are obeying God and preparing the next generation of believers. (proverbs 22:6).
Grace and Peace.