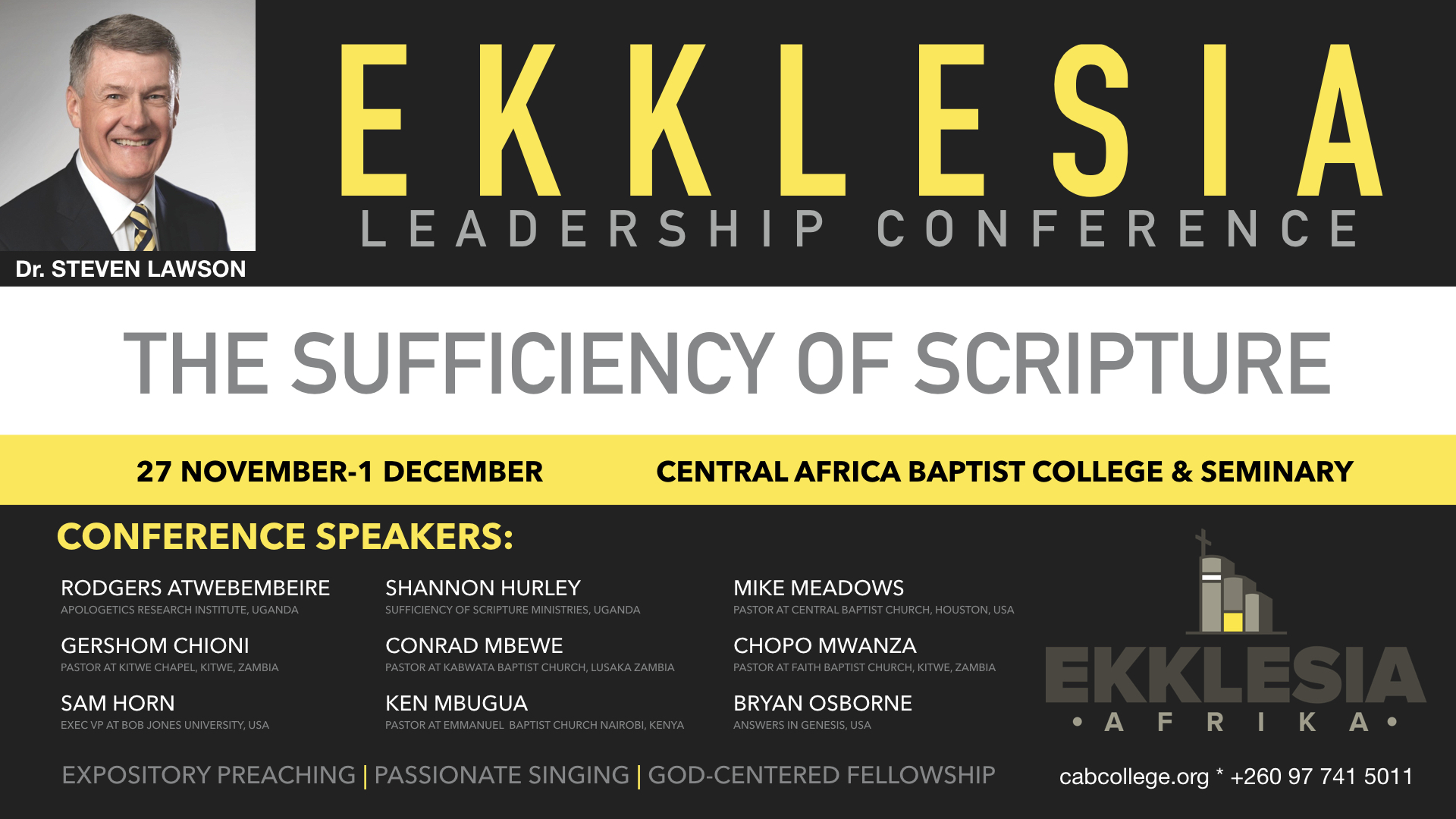 You are invited to attend the 14th annual Leadership Conference at Central Africa Baptist University being held in Kitwe, Zambia from 27 November – 1 December 2017. This year we are rebranding our annual Leadership Conference as the Ekklesia Leadership Conference. Ekklesia is a Greek word translated "church" in the New Testament.
Conference Theme: The Sufficiency of Scripture.
It has been 500 years since Martin Luther defiantly nailed a copy of his 95 Theses to the door of the Wittenberg Castle Church (October 31, 1517). This shot heard around the world launched an offensive for the sufficiency of Scripture. The Sufficiency of Scripture is the theme of our Conference this year.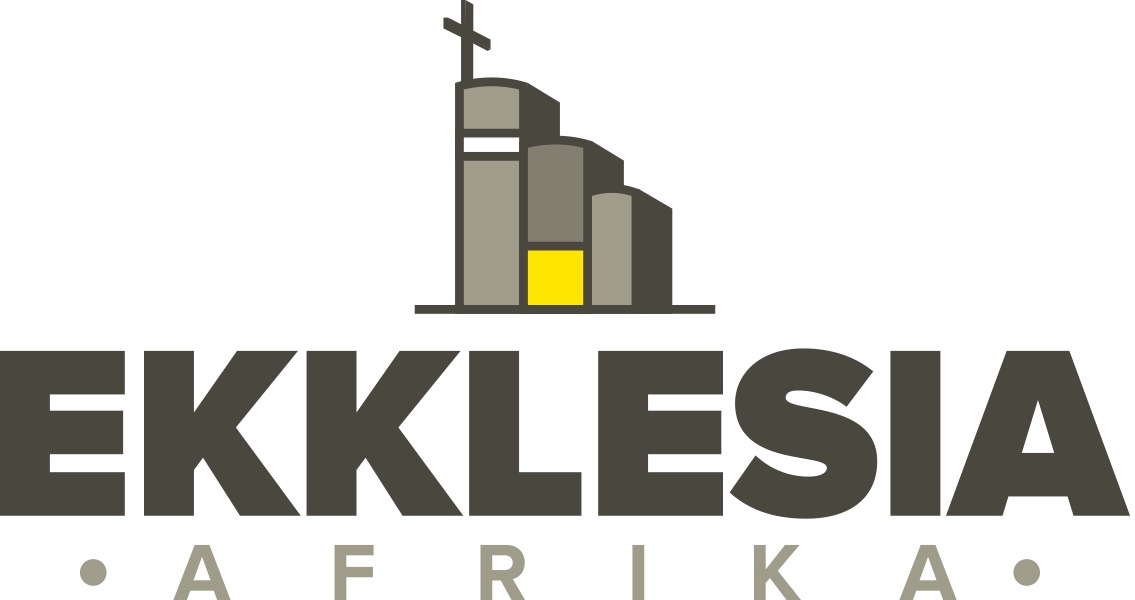 This Conference is for every Christian who wants to grow in faith and be equipped to serve Christ and His church! Our desire is to see a reproduction of healthy churches across Africa through planting and revitalization. We long to help churches that have embraced a biblical vision for God's people and have a gospel centered philosophy of ministry for the joy of all peoples and the glory of our God.
Our desire is to encourage healthy, reproducing churches across Africa by equipping the church through biblical & theological training, by providing resources and by encouraging local networks of like-minded pastors for the advance of Christs church in Africa.
OUR KEYNOTE SPEAKERS:
Dr. Steven Lawson – One Passion Ministries, USA
Dr. Sam Horn – Executive Vice President for Enrollment and Ministerial Advancement, Dean of the School of Religion and the Seminary, BJ University, USA
Dr. Conrad Mbewe – Pastor, Kabwata Baptist Church, Chancellor, Africa Christian University. Lusaka, Zambia
Other Workshop Speakers:
Bryan Osborne – Answers In Genesis, USA
Rodgers Atwembembeire – Africa Director, Africa Centre For Apologetics Research (AFCAR), Uganda
Shannon Hurley – Sufficiency of Scripture Ministries, Uganda
Mike Meadows – Pastor, Central Baptist Church, Livingstone, Tx. USA
Chopo Mwanza – CABU Faculty & Pastor of Faith Baptist Church Riverside, Zambia
Gerald Frye – Christian Businessman & Creation Apologist, USA
Ken Mbugua – Pastor, Emmanuel Baptist Church, Nairobi, Kenya
Gershom Chioni – Pastor, Kitwe Chapel, Zambia
OUR TRAINING MODULES:
Spiritual Growth & Ministry Track: All Christians are invited to enroll in this track. Great care is taken to equip saints for the work of ministry in the local church.
Expository Preaching Track: All men who are pastors (Elders) are invited to enroll in the Expository Preaching Track entitled – The Sufficiency of Scripture in Preaching. Lecturers for the pastor's class will be Dr. Steven Lawson & Dr. Sam Horn. All men who serve as pastors (elders) are welcome to enroll for this class.
Chaplains Track: All military, police, prison and civilian chaplains are invited to attend the class – The Dual Role of the Chaplain. The lecturer for this class will be US Coast Guard Command Master Chief (Ret.) Tim Murdoch.
REGISTRATION DETAILS:
DATE OF CONFERENCE:27 Nov. to 1 Dec. 2017. Registration tables open at 10:00 on Monday, November 27th for those who have pre-registered and pre-paid. Registration tables open at 12:00 for those who have not pre-registered and not pre-paid the conference fees.
VENUE: CABU Campus, 8051 Lulamba Drive, Riverside, Kitwe, Zambia (off Jambo Drive in Riverside Ext.)
REGISTRATION FEE: K100 registration fee per person. (No discounts available).
Note: Late coming registrations will not be accepted after 10hrs on Wednesday, 29th November.
This will be the last year we can offer Leadership Registration at this discounted rate. Registration fee in 2018 will be k200 per person.
BOARDING FOR OUT OF TOWN GUESTS:
THERE ARE 140 BED SPACES AVAILABLE AT NO COST FOR OUT OF TOWN GUESTS. These will be given on a first-come-first-served basis to out of town guests who register and pre-pay the k100 registration fee. Boarders must bring their own bedding & toiletries. We cannot accommodate couples staying together and strictly no boarding children under the age of 16yrs old.
There are additional 65 bed spaces available off-campus at a minimal fee of K25 per person, per night. (Total Due k100 for 4 nights, includes evening meals Monday – Thursday night). Reservations for this discounted lodging will only be confirmed upon non-refundable pre-payment of boarding fee k100. Boarders must bring their own bedding & toiletries. We cannot accommodate couples staying together and strictly no boarding children under the age of 16yrs old.
All other attendees not accommodated in the above will be responsible for their own lodging. We can provide out of town guests with information for lodges in the area that have agreed to offer discounted rates to Conference attendees.
PRE-REGISTRATION & BOARDING PRE-PAYMENT REQUIRED
Due to the increased attendance at Leadership Conference, this year attendees must Register and Pre-Pay the Conference Registration Fee of k100 to secure the free bed space or the Discounted Boarding fee of k100. (See above for explanation).
Registration Payments:
Registration or boarding fee can be paid via Airtel Mobile Money or Zoona or SWIFT CASH by sending k100 pre-payment to:
+260973627544 – Airtel Mobile Money
Please include the name of the CABU Representative: Kangwa Mulenga.
Note: Transfer charges are the responsibility of the sender.
You may also pay the registration or boarding fee of k100 by depositing into the CABU bank account at Standard Chartered Bank. Please use the account details below:
Bank Name: Standard Chartered Bank
Account name: Central Africa Baptist College
Account Number: 0100141842700
Branch: Zambia Way
Town: Kitwe
Swift Code: SCBLZMLX
Sort Code : 060228
Include your name follow by "LC" on the deposit slip
Please forward to us a copy of your deposit slip via text, WhatsApp or email.