This November we will host our 15th Annual Leadership Conference at Central Africa Baptist University. The theme of the conference this year is: Foundations for a Biblical Worldview. Make plans now to attend by texting or emailing your reservation. Space is limited, so register right away. See details below.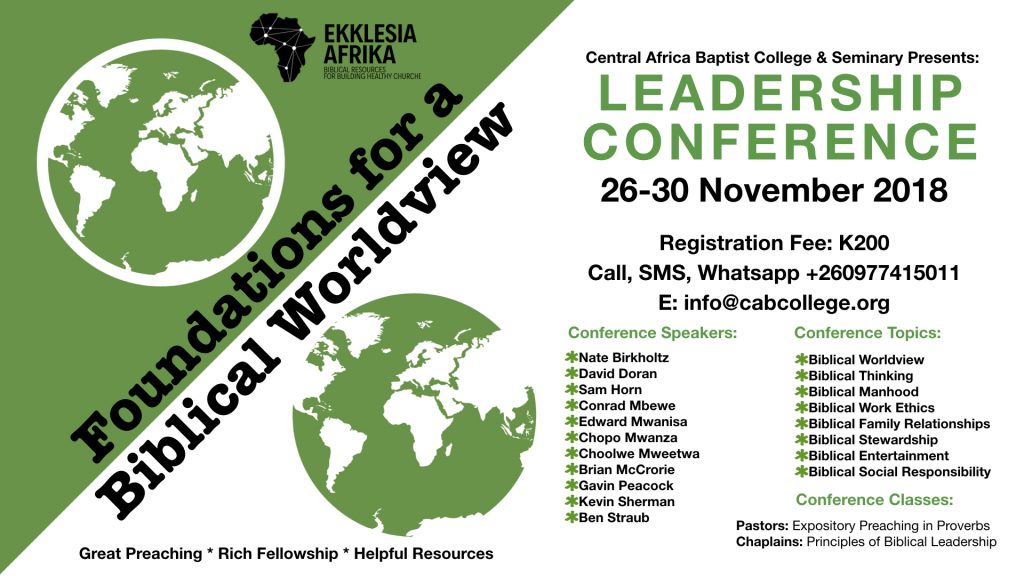 Foundations for a Biblical Worldview 
Every culture provides a filter through which we view the events of the world and bring sense to what goes on around us.  This filter is called: Worldview.
From the time we are born, we are influenced by ideas.  We get these ideas from our parents, family, and friends. We also get ideas from popular culture: music, art, movies, drama.  Some of these ideas align with biblical truth, but most do not!
As a Christian we are called to love the Lord with all our heart, soul and MIND (Mt.22:37-38)! Every Christian must determine what they will allow to shape their lives by what they allow to shape their thinking: ideas gleaned from culture, or truths learned from God's word.
Our minds must be transformed from our cultural worldview to a biblical worldview.  We must put on a biblical worldview and live it out in our families, communities and among the nations.
Don't copy the behavior and customs of this world, but let God transform you into a new person by changing the way you think. Then you will learn to know God's will for you, which is good and pleasing and perfect. – Rom. 12:2

"If we want to live straight, we have to think straight. If we want to think straight, we have to have renewed minds." – John Stott
Biblical faith must influence every part of our lives. For many Christians however, biblical faith has little influence in our day to day life and the decisions we make.  Our faith may get us to a church on Sunday, but it has very little affect in our homes, at our place of business, or in our relationships.
Christ's command to disciple the nations (Mt. 28:18-20) is a command to teach them the Word of God.  Followers of Christ must put on a biblical worldview and apply biblical truth to every area of their lives, not just their "religious" life.  The gospel is to be lived out in the context of everyday life!  As disciple-makers we are commanded to "teach them to obey all things."
As Christian workers, we seek to understand and obey Paul's admonition "to demolish arguments and to take every thought captive to the truth of God".  In other words, we are engaged in an aggressive, intentional battle for biblical thinking so that will result in living in a manner pleasing to God. All Christians are called to engage in this fight.
Foundations for a Biblical Worldview Conference will investigate foundational truths that shape the way we view life and ministry.
Thee training tracks will run during the week:
Spiritual Growth & Ministry Track – Foundations for a Biblical Worldview
Expository Preaching Pastors' Track – Expository Preaching in Proverbs
Chaplaincy Ministry Certificate Track – Principles of Biblical Leadership
Some of the topics that will be covered are:
Biblical Manhood
Biblical Work
Biblical Family
Biblical Stewardship
Biblical Entertainment
Biblical Thinking,
Biblical social responsibility
…and more.
We have a tremendous line up of speakers for this year's conference:
Nate Birkholtz – Pastor, Lakeshore Baptist Church, Grand Haven, Michigan
David Doran – President Detroit Baptist Theological Seminary. Pastor of Inter-City Baptist Church, Allen Park, Michigan
Sam Horn – VP of Academic Affairs and Ministerial Training Bob Jones University
Conrad Mbewe – Chancellor, Africa Christian University. Pastor Kabwata Baptist Church, Lusaka Zambia
Edward Mwanisa – Pastor Faith Baptist Church, Kakolo, Zambia, Chair of Expository Preaching Central Africa Baptist University.
Chopo Mwanza – Pastor Faith Baptist Church Riverside, Kitwe, Zambia. Chair of Counseling, Central Africa Baptist University
Choolwe Mweetwa – Pastor Central Baptist Church, Chingola, Zambia. Author of "Why Africa Is Poor."
Brian McCrorie – Pastor, Heather Hills Baptist Church. Indianapolis, Indiana
Gavin Peacock – Pastor Calvary Grace Church in Calgary, Alberta, Canada. Director of International Outreach, Center for Biblical Manhood and Womanhood.
Kevin Sherman – Chair of Theology, Central Africa Baptist University
Ben Straub – Chair of Greek, Central Africa Baptist University
Register now for Leadership Conference!
When: 26 -30 November, 2018
Where: Central Africa Baptist College's Campus * 8051 Lulamba Street, Kitwe, Zambia
Registration Fee: K200
To register or for more Information: Call, SMS, Whatsapp +260977415011
Please do get in touch and register for the conference as space is limited!