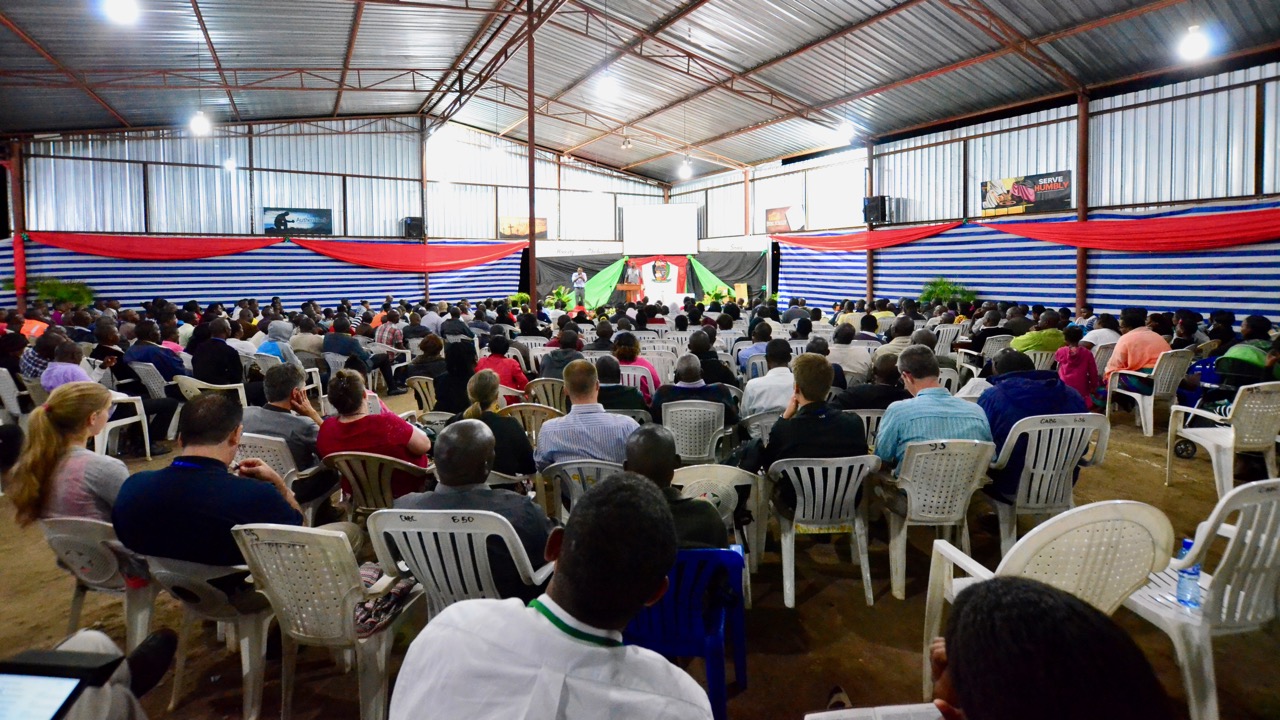 God met with us during LEADERSHIP CONFERENCE. The workshops and sermons were timely, intensely biblical and accompanied by the working of the Holy Spirit in hearts and minds. We had 530 registered participants, a 20% increase from last year! The conference attendees came from across Zambia and also from Kenya, Malawi and the Democratic Republic of Congo. The CABU team rose to the challenge of the unexpected turnout and worked together in humility and with grace.
During the week three main sessions ran simultaneously. The Church Leaders met together for 23 workshops during the week. A variety of speakers taught throughout the week. Dr. Voddie Baucham was a keynote teacher and handled sessions on the conference theme: Expository Apologetics.
The Pastors (180 of them) gathered for a study entitled Cosmic Conflict taken from Ephesians 6. Dr Sam Horn was the main teacher in this class. Over 100 Chaplains attended the class Introduction to Chaplaincy taught by CABU Director for Chaplaincy services Pastor Allan Ilunga. Another of our keynote speakers, Dr Conrad Mbewe spent time teaching the church leaders, pastors and chaplains during the week. Throughout the day the groups would come together for preaching and for fellowship and meals.
The day concluded with a service that was open to the general public. Monday through Thursday the Word of God was expounded in these evening services. The attendance most nights pushed to nearly 600 people under the conference shelter.
Thursday night the College celebrated the 8th Graduation Ceremony. A total of 12 students received their academic awards. Pastor Voddie Baucham brought a challenging message to the graduates pointing to the supremacy of Christ as the motive for their life work. Eleven Chaplains were awarded their Chaplaincy Certification in acknowledgement of completing the Chaplains training program. Several pastors were awarded a block class certificate for successfully completing nine classes in block class format here at the college.
We hope you will enjoy the photo gallery from the conference. You can also see some of Saidi Chishimba's professional quality photos from the week by using searching for this link on Facebook: #leadershipconference2016photogallery
We thank God for the many partnerships that allowed us to put quality theological and ministry resources into the hands of every person who registered and attended this year's conference. Thank you to Christian Book Distributors, Theological Book Network, Gerald Frye, The Gospel Coalition International Outreach and Leadership Ministries Worldwide! May God bless these partners for their commitment to training and equipping church leaders in Africa!
If you missed the blessing this year, please pencil in these dates for the 2017 Leadership Conference: November 27 through December 1. Hope you will make plans now to join us!