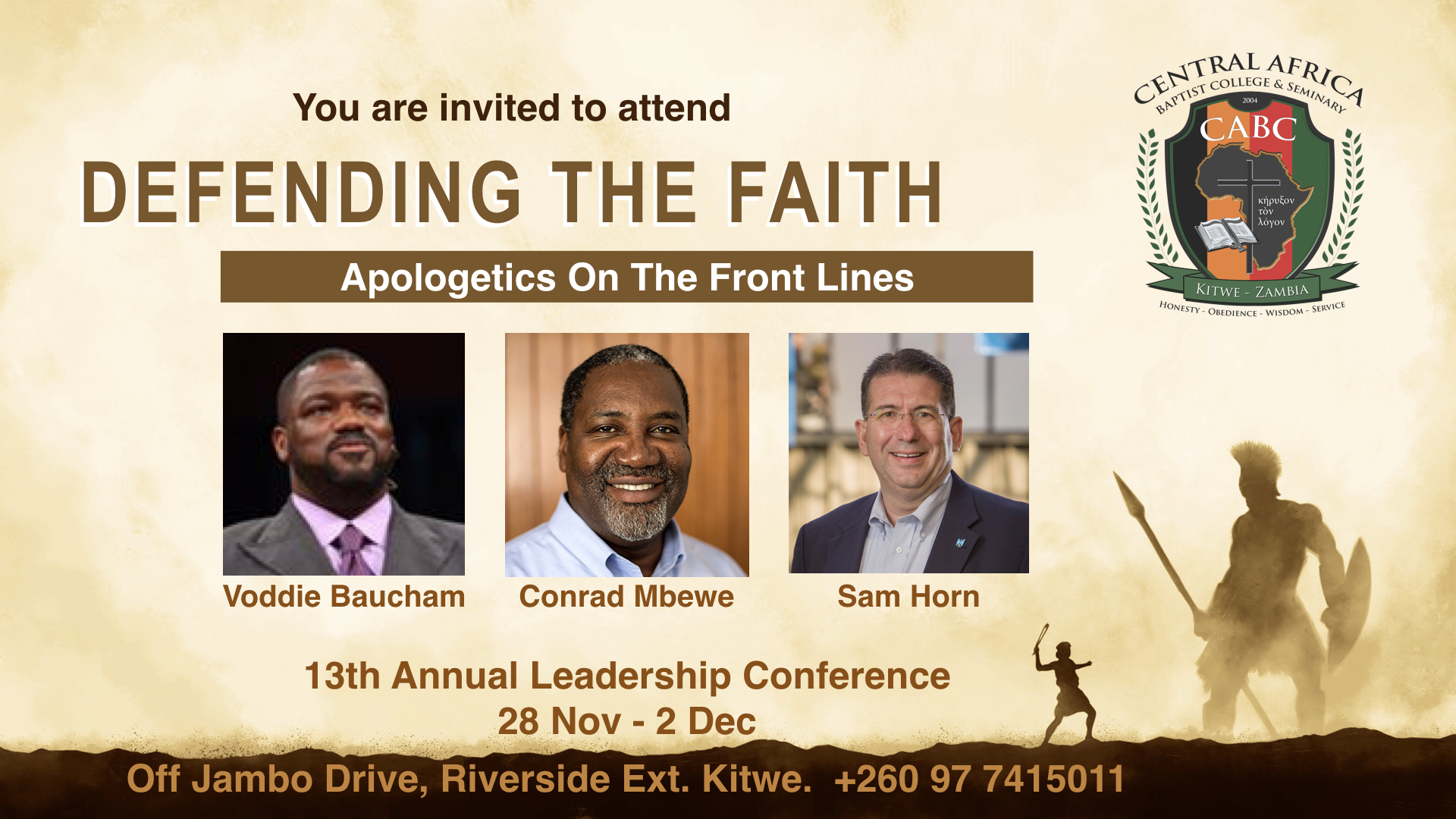 You are invited to attend the 13th annual Leadership Conference at Central Africa Baptist University. The church is on the front lines in the advance of gospel truth. In this Leadership Conference you will be equipped to defend the faith in the face of current challenges facing the Christian and the church in Africa.
Leadership Conference is for every Christian who longs to grow in their faith and be equipped to serve Christ are invited to attend workshops and sessions on the theme: DEFENDING THE FAITH: Apologetics On The Front Line. Dr. Voddie Baucham, Dr. Conrad Mbewe, Pastor Ken Mbugua, Dr Sam Horn, Pastor Dave Marriott will join the CABU Faculty in offering 17 different sessions during the week.
On Wednesday afternoon, we will conduct a Christian Business Forum where we will deal with issues of Christianity and business. We invite large and small businesses to send their executives, management and employees; even if they are unable to attend the conference the rest of the week. Speakers for the afternoon is Mr. Roland Thompson, a successful Christian businessman from the USA and Mr. Bernard Chiwala, former CEO of Nkana Water & ?former Director 0f?the Zambia Roads Department.
Pastors are invited to attend the Expository Preaching Block class entitled: COSMIC CONFLICT: The Believers Spiritual Armor. Dr. Sam Horn will be our lecturer for this class, Dr Conrad Mbewe will be teaching as well.
Chaplains are invited to attend the class entitled: Introduction to Chaplaincy. This class will be taught by former US Navy Chaplain, Mr. Allan Ilunga.
Here are the conference details!
DATE: 28 Nov. 2 Dec. 2016 Registration begins at noon on the 28th.
VENUE: CABU Campus, 8051 Lulamba Drive, Riverside, Kitwe, Zambia (off Jambo Drive in Riverside Ext.)
COST: K100 per person. *
Register Online: www.cabuniversity.com
Register by Email: [email protected]
Register by Text: +26 097 741 5011
Payment can be made via Airtel Mobil Money, send payment to +260977415011. You may?also make payment by bank deposit the funds into our account: Please then send us a copy of the deposit slip.
Account name: Central Africa Baptist College
Bank Name: Standard Chartered
Account Number: 0100141996000
Branch: Zambia Way
Town: Kitwe
Swift Code: SCBLZML
OUT OF TOWN GUESTS: Lodging is provided free of charge to out of town guests as space allows. Boarders must bring their own bedding & toiletries. We cannot accommodate couples staying together and strictly no boarding children this includes infants.
*Churches pre-registering 15 or more people will be offered a discount. Pre-payment required. Contact the college office for more details.